We're getting ready for the 20th anniversary screening of Jungle Fever (1991)
at BAM next Tuesday 11/15 7PM.
People who haven't seen the film an awhile remember that awesome Stevie Wonder song and that it was Halle Berry's first film role: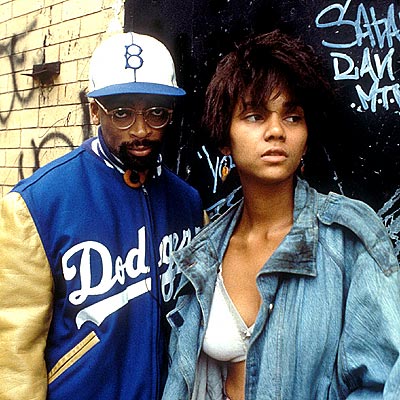 We're interested in talking about how gender, race, and interracial romance play out in this film and we're curious about how people will receive the film 20 years later – especially a Brooklyn audience who will know why it's particularly relevant that Angie Tucci (Annabella Sciorra) is not only white, "H-bomb," says Cyrus (Spike Lee), but from Bensonhurst, "Megaton bomb!"  Reading this New York Times review of the film from 1991 brings you back to that time.
Join Imani Perry, author of Prophets of the Hood: Politics and Poetics in Hip Hop and More Beautiful and More Terrible: The Embrace and Transcendence of Racial Inequality in the United States;
Historian Renee Romano, author of Race Mixing: Black-White Marriage in Postwar America and co-editor of The Civil Rights Movement in American Memory;
And Michele Wallace, film critic, daughter of artist Faith Ringgold, and author of Black Macho and The Myth of The Superwoman and Dark Designs and Visual Culture in a conversation after the screening.
This event is co-presented by BAMcinématek.
Jungle Fever 20 Years Later
Tuesday, 11/15/2011 7PM
BAM Rose Cinemas
30 Lafayette Avenue, Fort Greene
$12 / $7 for BAM and BHS Members
UPDATE:  Check out this Op-Ed on Jungle Fever & Harlem's Identity Crisis from THIRTEEN's MetroFocus.